<!— RectangleEasylife-RU —>
So, you've purchased a domain through WordPress.com and now wonder what are the registrar prices for renewal and other operations? Are you wondering why the only things comes up in search engines is Automattic's Domain Registrant Agreement and price list is nowhere to be found?


Well, that's because WordPress prices are a rip-off!
They register new domains for 17 USD. Which is about twice as high as 1and1.com, GoDaddy.com
, Namecheap.com or any other decent registrar will charge you for the same operation.
Private Domain registration at WordPress.com is 8 USD, while an average registrar
charges three times less than that, and many offer anonymous domain feature free in domain registration bundle.
Automattic Domain renewal fee is obviously another 17 USD per year. Even if the domain registration fee is dropped, the remaining price is still much higher that the market average.
Domain autorenewal fee at WordPress.com is a staggering 36 USD per year! You may register 4 to 8 separate domains for that price at other registrars!



But the worst thing that may happen to you at WordPress.com registrar is failing to renew the domain in time. Getting an Expired Domain out of Redemption will cost you 97 USD!!! WordPress.com staff claims the fee combines 17 USD for a domain renewal and the additional 80 USD is levied by the registrar, which they have no control of. Well, that's bullshit! WordPress.com registrar is Automattic Inc (ID #1531), which happens to be the owner of WordPress.com!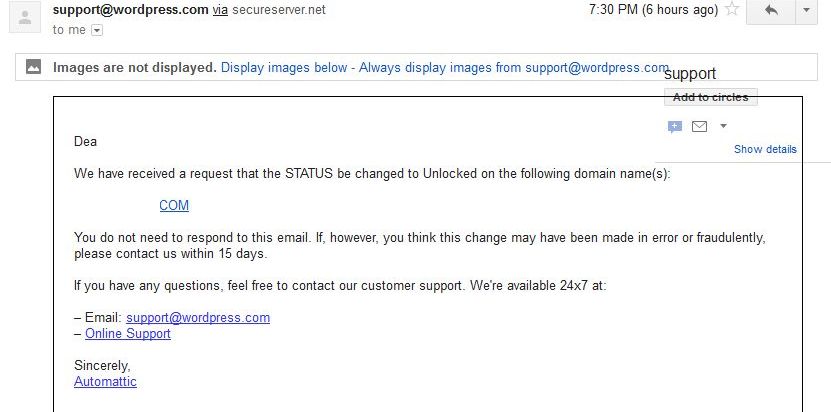 So basically, what WordPress.com does is ripping off new and yet inexperienced bloggers for domain names. There's no general price list, so you could not compare it with other registrars, which provide a comprehensive fee printout. You have to collect bits of information from various, sometimes rather irrelevant pages like the technical support section, to get a picture of Automattic price tags.
In fact, every common webmaster tool is cryptically hidden in the void of WordPress.com .
For instance, if you would like to edit DNS or renew your domain name, you would naturally go to the registrars control panel, right?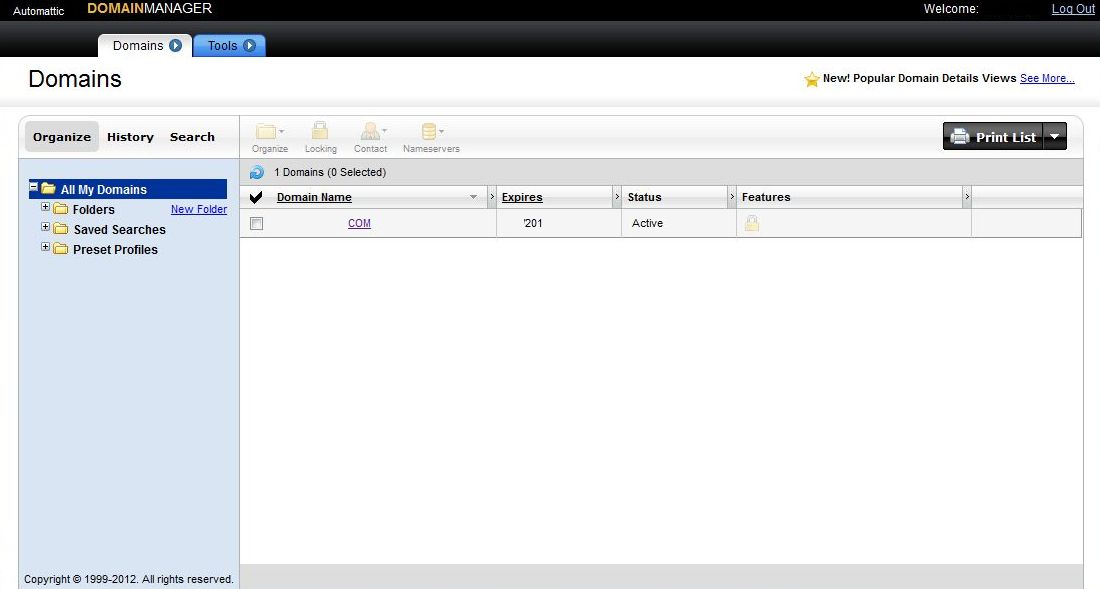 Wrong! Automattic Domain Manager is a deserted wasteland.
If you want to control your custom domain, you have to login to your domain.wordpress.com dashboard. But how you do that, if the domain.wordpress.com keeps redirecting you to your separate domain?
Well, you have to login to WordPress.com, go to My Blogs and click Dashboard under the blog with domain name in question.



Now go to Settings -> Domains.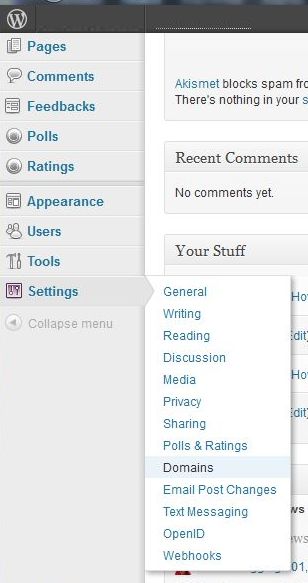 And here is where you change DNS for your WordPress.com custom domain.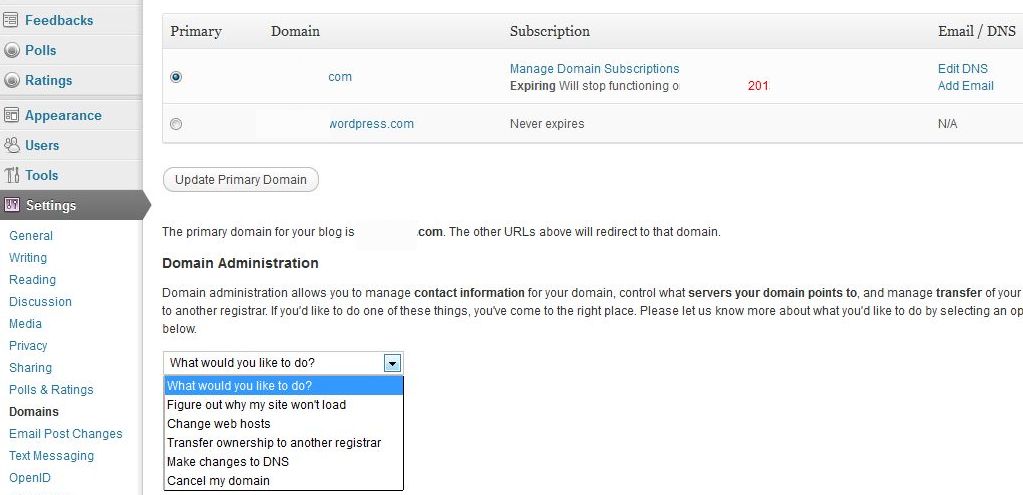 The menu items redirect you to a subdomain at securepayments.com, which is Automattic Domain Manager. Each subdomain has a specific function, and you have to access them via WordPress.com My Blogs dashboard. Why couldn't they just make a normal domain control panel like everybody else? Bearing in mind the 2-3 times higher fees of WordPress.com registrar services, you would expect those services to be top level. But no. They are ugly and inconvenient as hell.
To get a 20% off your purchase at GoDaddy.com
, enter this code at your checkout: WOWNOW

===================================================================
SORRY TO SEE YOU GO. WE'LL ALWAYS WELCOME YOU BACK.
===================================================================
Dear ,
We're sorry you transferred your domain name(s) away from Automattic. We are committed to providing quality services and products and hope that we met your needs.
If you feel your transfer was in error, or if you have changed your mind, please contact our support department at 877-273-3049. They'll assist you in transferring your domain name(s) back to us.*
Sincerely,
Automattic