<!— RectangleEasylife-RU —>
How come hosting companies and registrars provide domain names for free, while it's clear that equipment and personnel cost money?!

First, you have to understand hosting companies and registrars are neither Mother Theresa, nor Kind Samaritan. They are private companies, and they are here to generate profit. Thus, their business strategies fall in two main categories.
Some free hosting companies are slave masters. They rip off your work by displaying their ads the free domain they provided you, and your are forbidden to place your own ads. That's exactly the reason why such hosting providers TOS explicitly prohibit using free domains for picture sharing and online game servers: such sites generate much traffic, which is not seen by other computer systems rather than end users. There's no point of placing ads at a CS dedicated server, and that means there's no point for any hosting company to keep such server. On the contrary, user-generated content may attract much traffic for the hosting company to monetize, so they keep slaves who work for food and shelter. Food and shelter is DNS traffic and hosting space, and the slave is you. You may as well post your content on Wikipedia, which utilize the same concept: you create all the content, and they cash all the checks.
Other free registrars are drug dealers. Like with dope, only the first dose is free. They will provide the hosting and/or domain name, wait until you excitedly fill it with content and drive traffic through SEO, and then rip off your enthusiasm by shutting down your site. Then you will be either provided with the option to register the already popular domain for an much greater price, the domain will be auctioned off to a highest bidder or redirect to the hosting company own ads page, and sometimes all three of these.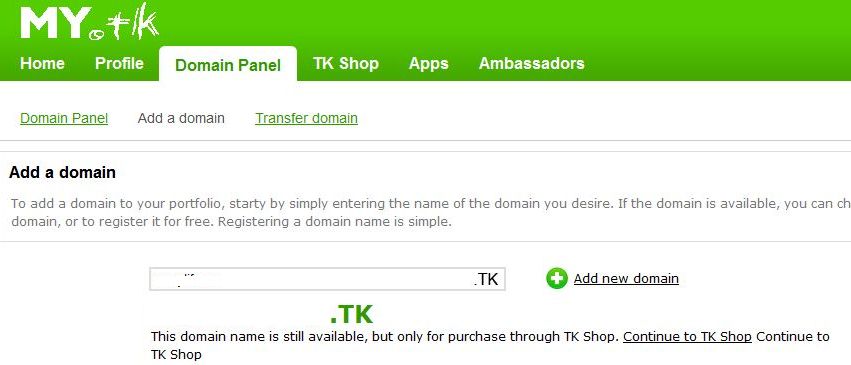 Others may combine both tactics, but the idea to understand here is you never own a free domain. It is owned by the hosting company or the registrar. And whatever their fancy slogans claim about free internet for everyone or their TOSes specify about incativity periods, that's all a lie. Sooner or later, you will be scammed by a free domain service. Free hosting company, like 000webhost, providing free third level domains, typically shuts down your site as soon as it reaches a steady traffic of 200 hits a day for a month. A free registrar, like Dot.tk, will shut down your free domain when it reaches 500 hits a day. They will generate any irrelevant reason they could think of or provide no reason at all, but the truth always is simple: your site is getting popular, and it's time for the hosting dealer to get its cut.
So, you should always consider registering your own paid domain via a decent registrar, even if for a hobby site which you don't have plans to monetize. And by the way, there's nothing bad in getting money for your passions: a talented enthusiast doesn't have to be broke,untidy and slightly mad, as the movies portray them.
Registering your own domain will cost you about 10-15USD for the first year. You also have to pay a portion of that amount (or several times more) each year to renew your rights for the domain. Paid hosting will require about 5 dollars a month, which makes it another 60 per year. The problem with monetizing sites is that it may take years for those 15 bucks to repay in ad revenues.
Statistically, a average site receives one ad click per each 1000 visitors. That's exactly why Google provides analytics in thousands of views (RPMs). Reaching those 200-500 hit-a-day threshold for your free site to be hijacked by the domain owner, will take at least 3 months of hard work writing original content and sleepless nights, promoting your free site in the search engines. So, your best bet is earning 50-60 USD from your site by the end of the year.
The problem is, Google Adsense minimum payout is 100 USD. That means you have to renew your site for another year to get back those initial 15 USD. Bing Chitika payouts start with 10 USD, but Bing only displays ads for users from limited geography and only if they reached your site through Bing search engine, which has very low probability due to much bigger popularity of Google.
So, bottom line: free hosting and free providers are good to test if your site content ideas can actually be monetized. Start by registering at a free hosting company and a not really free top level domain, and link them together. Avoid using free hosting provider's third level domain, as search engines refuze Change of address for non-top level
domains.
Now work on your site and watch your statistics carefully. As soon as your site audience begins to build up, consider a proper move to a pain TLD leaving 301 redirects on your old free domain to keep SEO page rank. If your already lost control of your domain, consider these steps to help you rebuild your sire at the new domain.
To get a 20% off your purchase at GoDaddy, enter this code at your checkout: WOWNOW
Here's a by no way complete list of free registrars and free hosting companies, that will eventually scam you and steal or hijack your domain:
http://dot.tk
http://hostinger.ru
http:/hostinger.com.ua
http://000webhost.com
http://0fees.net/
http://000space.com/
http://1sthost.org/
http://4sql.net/

http://byethost.com/
http://byteact.com/
http://freezoka.com/
http://hostwq.net/
http://ifastnet.com/
http://kwikphp.com/
http://megabyet.com/
http://my-php.net/
http://my-place.us/
http://my-webs.org/
http://netfast.org/
http://php0h.com/
http://phpnet.us/
http://podserver.info/
http://prohosts.org/
http://prophp.org/
http://sprinterweb.net/
http://summerhost.info/
http://swiftphp.com/
http://thport.com/
http://truefreehost.com/
http://xlphp.net/