<!— RectangleEasylife-RU —>
Sometimes Windows 7 installer pops out the following error: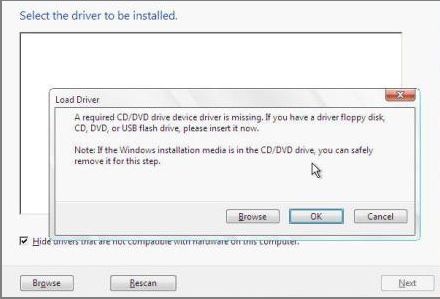 A required CD/DVD drive device driver is missing. If you have a driver floppy disk, CD, DVD, or USB flash drive, please insert now.


Normally, this error indicates a bad installation DVD burn, and could be fixed by burning the Windows 7 installation media once again at the lowest speed possible.
But what if you are installing Windows 7 from USB stick on a computer that doesn't have a CD/DVD drive in the first place? This error is frustrating.
Here's how to fix it.
First, get a clear 4Gb USB thumb drive. If you already used it for creating a Windows 7 intall disc, you have to remove all the partitions. Windows 7 doesn't allow to control multiple partitions on a removable media for another idiotic Microsoft reason, so use Gparted or Acronis Disc Director or whatever partitioning software you have.
Once the USB drive is clean, use UltraISO to prepare the installation media. To do that, first open the .iso and then go to Bootable->Write disc image. Here, be sure to select USB-HDD (usb MINUS hdd) method. Write the drive and try installing Windows 7 once again.
The error should be gone. If it's not, repeat the process. If the error is still there, download another installation .iso from MSDN and repeat the process. Eventually, you'll get pass this error. You may also try the UEFI mode.