<!— RectangleEasylife-RU —>
You have a DTS/DD receiver hooked to your computer via spdif, but VLC doesn't have the option A/52 over S/PDIF?
Check your Playback devices in Windows 7 Volume control. Make sure Digital Audio (S/PDIF) is set as Default Device and open its properties. In the Supported Formats tab, select all the Encoded formats and all the Sample Rates that your receiver supports. Save the settings and restart VLC player. You should have the A/52 over S/PDIF option in Audio->Audio Device now. Select it and enjoy your movie.
Another reason may be the presence of AAC codec in the media details.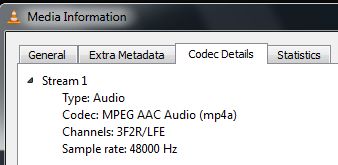 Mp4a cannot be forwarded to spdif pass-through. AC3Filter might help you to decode it on the fly, but VLC Player doesn't support AC3Filter.