<!— RectangleEasylife-RU —>
There is a bug in Windows 7 with icon cache. If you have some icons on your desktop that point to a drive not mounted on boot, the icons are gone.Only default ugly icons are displayed.


I use a Truecrypt volume with portable programs, which is not mounted on boot, so it happens all the time.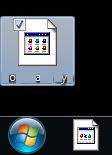 To fix it, you must rebuild your icon cache. Unzip and run this file under administrator to rebuild the cache. No reboot necessary.